PRAMAC Storage Systems GmbH
The energy transition as a driver of smarter storage
Digitalization is now finding its way into the energy market. For PRAMAC Storage Systems GmbH (formerly REFU Storage Systems GmbH, this means developing new software, hardware, and cloud solutions in addition to innovative power electronics. As a former part of the Prettl Group, PRAMAC Storage Systems focuses on the market for battery inverters and energy storage systems, and the company recently worked closely with inovex on a pilot project to develop an energy management system (EMS).
This integrated software and hardware solution enables the company to network, monitor, and intelligently control devices and systems for the generation and storage of energy, as well as smart meters and energy users, regardless of manufacturer or communication standards. As a specific application example, PRAMAC Storage Systems uses the charging stations of its electric vehicle fleets. At the company's headquarters, PRAMAC Storage Systems relies on an intelligent, high-performance energy storage system, the EV Boost Box, as a cost-effective way to provide the requisite charging power to its electric vehicles. The energy management system is responsible for networking and intelligently controlling the various components involved. It ensures that the energy required to charge electric vehicles is provided in sufficient quantities at the right time. inovex supported the project with a team of experts in architecture, UI/UX, and front-end and back-end development, as well as a Scrum Master and project manager.
The energy transition is not a project of the future. Instead, it is already in full swing – and sun, wind, and water are already among the most important sources of electricity. In Germany alone, the share of renewable energies rose from around six percent in 2000 to over 46 percent in 2020 – and the share of green electricity as a percentage of the country's total energy consumption continues to grow. This is ensured not only by the country's Renewable Energy Sources Act (EEG), but also by the increasingly stringent ESG criteria that internationally active companies apply when selecting suppliers and business partners.
The rapid increase in renewable energies also creates new challenges, however, because sun and wind are not always consistently available. Due to the fluctuation of these energy sources, solutions are required to store green electricity and then feed it back into the power grid when it is required. It is not only the energy transition, however, which is intensively driving the development of intelligent electricity storage systems, but also the strong increase in both e-mobility and trade and industry applications, such as peak shaving, backup power, and load management. With its controllable electronic frequency converters, REFU, as part of the Prettl Group, is a photovoltaics pioneer and technology leader and has been setting standards with its PV inverters for many years. To enable the company to successfully extend this role to the market for battery inverters and energy storage systems, REFU Storage Systems GmbH (REFUstor), which focuses specifically on this new market segment, was founded. After the takeover by PRAMAC, the company was renamed PRAMAC Storage Systems.
Since digitalization also plays a central role in the energy market, PRAMAC Storage Systems focuses not only on the development of innovative power electronics, but also on the development of software, hardware, and cloud solutions for professional energy management. In close cooperation with inovex GmbH from Karlsruhe, therefore, an energy management system (EMS) was developed and implemented at the REFU headquarters in Pfullingen, Germany. The solution, which comprises integrated software and hardware components, can be used to network, monitor, and intelligently control devices and systems for generating and storing energy, as well as smart meters and energy consumers, regardless of their manufacturer or communication standard. 
Shaping the energy market with intelligent IT solutions
Technological developments relating to Industry 4.0, Smart Home, or Smart City, as well as the Internet of Things (IoT) have triggered a huge digitalization push in recent years – and its effects have now arrived in the energy market. Existing analogue devices and systems are increasingly being replaced by digital, or "smart" successors, which are networked together and which exchange data with powerful cloud applications. This not only optimises energy demand and drastically reduces energy costs, it also creates completely new business models and ecosystems. In order to participate in – and even to actively shape – this evolution of the energy market, PRAMAC Storage Systems is pursuing a comprehensive digital strategy, the focus of which is the Enterprise Energy Management Platform. The aim is to develop a comprehensive digital ecosystem which combines everything required for the energy management of the future in a central platform. This includes everything from functions for controlling and monitoring local devices and systems to the cross-location provision of data-based cloud services – and even a seamlessly integrated marketplace for easy access to third-party services such as individual electricity tariffs or participation in the balancing market. With the development of its own energy management system, PRAMAC Storage Systems, supported by inovex, has laid the foundation for implementing its enterprise energy management vision. 
A boost for electromobility
The best solutions and products usually arise from specific, real-life requirements, and the PRAMAC Storage Systems EMS is no exception. Although the idea for a digital energy platform had long been mooted and was being actively worked on, the company's own needs and a specific use case acted as catalysts to massively accelerate the system's development.
As part of the GoZero initiative, which was launched in 2020, the Prettl Group – and thus also the former REFUstor – aimed to achieve carbon-neutral production at all their production sites in the next few years. One of the measures in this global CO2 reduction plan was the conversion of the entire company fleet to fully electric vehicles. The challenge here was to provide the necessary charging infrastructure. A charging station was, for example, already available at the headquarters in Pfullingen, but an initial expansion to four rapid charging points with options for more proved impossible due to limited grid connection capacity. To remedy this problem, it would have been necessary to lay new supply lines, which would, taking into account all the permits and excavations required, have taken a very long time and been extremely costly.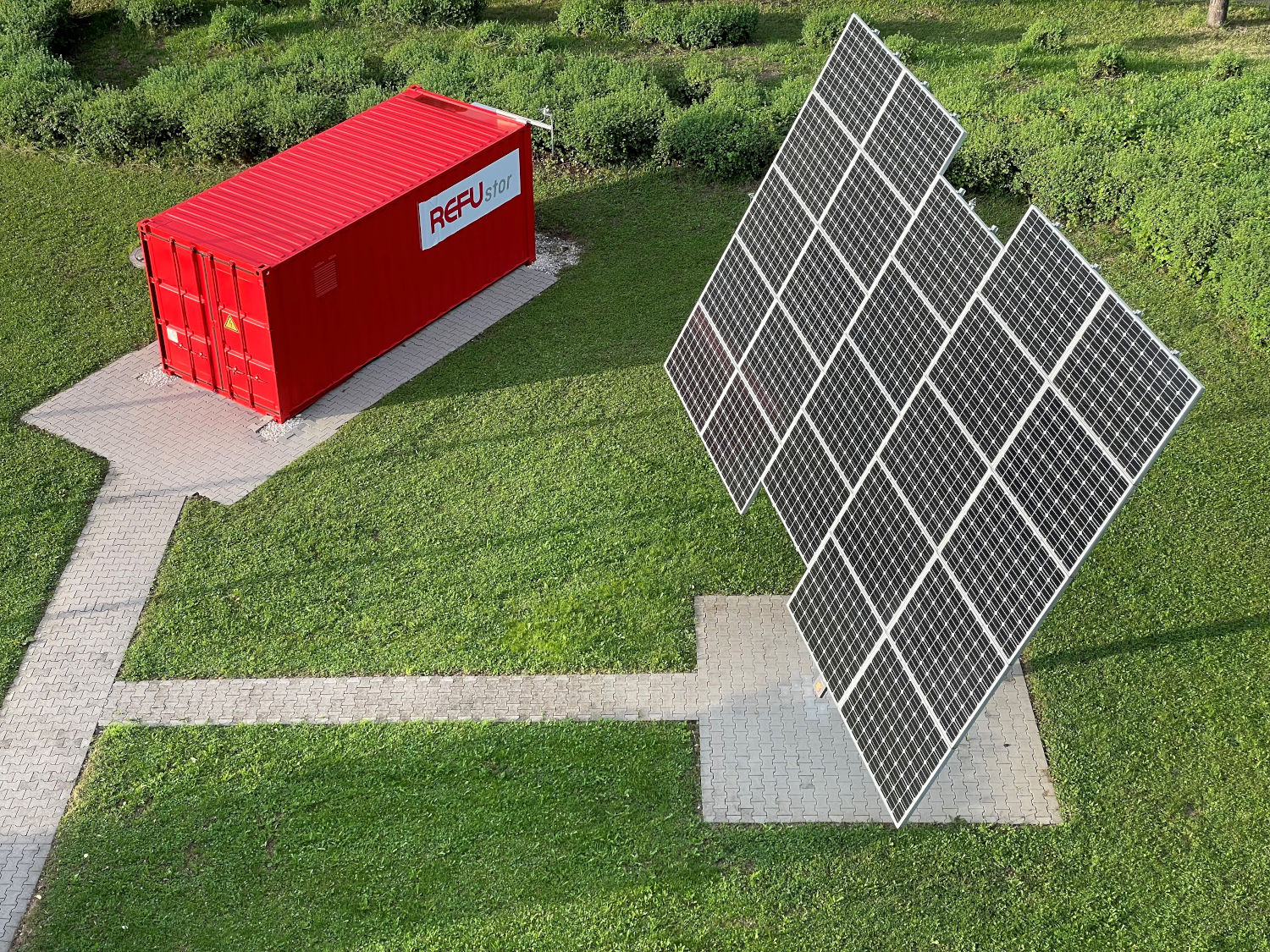 And so the idea of the EV Boost Box was born. This is a cost-effective solution for providing the requisite charging power for electric vehicles without complex and expensive construction measures. It comprises an intelligent and extremely powerful battery storage system which provides additional power during peak hours in order to supply all charging points with the necessary charging power. It can also store additional energy from available photovoltaic systems, a feature which increases the charging capacity and further reduces electromobility costs.
Boosting supply lines is not, however, an issue specific to PRAMAC Storage Systems GmbH – quite the opposite, in fact. Due to new regulatory and building specifications, more and more companies, municipalities, and property owners are facing the challenge of having to provide charging points for electric vehicles despite limited supply lines. In developing an energy management system for the EV Boost Box, therefore, PRAMAC Storage Systems and inovex are addressing an acute issue affecting the expansion of the electromobility charging infrastructure.
A container full of electricity
An EV Boost Box comprises three essential system components: a suitable, sufficiently large battery storage system to buffer the requisite energy; a special inverter to convert the energy stored in the battery back into alternating current (AC) for the charging stations; and an energy management system which networks and controls all the components. The batteries in the EV Boost Box at the Pfullingen site have a storage capacity of 130 kWh, weigh approximately 1.5t, possess an integrated battery management system (BMS), and are housed in a 20-foot-long international shipping container. A bidirectional high-power battery inverter from PRAMAC Storage Systems delivers a maximum output of 88 kVA and is optimally adapted to this particular application. Charging of the storage battery is supported by a PV tracker with a nominal power of approximately 6 kWp, which is connected to the overall system using a PV inverter. As "consumers" of the stored energy, two charging stations with four charging points and a maximum charging capacity of 22 kW AC each were installed and connected to the EV Boost Box.
Energy intelligence from Baden-Württemberg
Simply setting up a storage system does not, however, close the gap between the need for charging power and the available capacity of the transmission line. Instead, the challenge lies in networking all the components with one another, intelligently controlling them, and ensuring that the energy required to charge electric vehicles can be provided in sufficient quantities at the right time. This is where the energy management system (EMS) comes in. 
Although such systems have been available on the market for several years, most are expert-level applications which either cannot be adapted – or only to a limited extent – without the support of the manufacturer. Others do not meet all the requirements of an EV Boost Box. In addition, the EV Boost Box needs to be both seamlessly integrated into the Enterprise Energy Management Platform and easy to use, even for users without energy technology know-how. After extensive market research, PRAMAC Storage Systems therefore decided to develop its own solution consisting of software, hardware, and a cloud connection.
In addition to inverter technology, PRAMAC Storage Systems' areas of expertise also include the development of dedicated software and hardware for energy technology. This pilot project, however, was to be based on current cloud and edge technology and had to be implemented within a very narrow timeframe. PRAMAC Storage Systems therefore brought a strong and competent technology partner on board for support – inovex. The particular challenge of the EMS development project lay in creating a solution for the specific use case as quickly as possible while at the same time developing a more generic application which could be used for other applications. In partnership with inovex, therefore, PRAMAC Storage Systems developed a modular system architecture which allows individual functions and logic systems, as well as device drivers and external interfaces, to be flexibly combined in order to optimally adapt the system's range of functions to the respective requirements.
As part of the pilot project, the functions required for the EV Boost Box, such as Time of Use, Battery Balancing, Peak Shaving, Active Power Reduction (Solar & Battery), Condition Monitoring, Charging Pillar Management, and Zero Feed-In, were implemented initially, as was a connection to the PRAMAC Storage Systems Cloud. In addition to the technical implementation, PRAMAC Storage Systems worked with UX experts from inovex to develop a consistent usability concept which makes it possible to set up and configure the EMS system even without extensive technological knowledge.
Our cooperation: On time, under budget – and without sacrificing quality
Both PRAMAC Storage Systems and inovex are experts in their respective fields of business and have decades of experience in system development. Nevertheless, the development of an entirely new and complex energy management system including an edge controller and a cloud connection was uncharted territory for all the parties involved. It presented a real challenge, particularly since a window of only about three months was available for the pilot project's implementation. To make matters worse, testing the software, especially during the driver development phase, often required physical access to the hardware. Due to the technical infrastructure required, this equipment was either available only at PRAMAC Storage Systems in Pfullingen or – due to the COVID-19 pandemic – ultimately delivered only towards the end of the project period. Thanks to the professional use of agile methods, the excellent coordination, and the close collaboration between the internal and external development teams, it was, nevertheless, possible to put the EV Boost Box into operation exactly on the planned date. "The external circumstances meant that none of the project participants expected us to make quite such a precision landing. The fact that everything immediately ran flawlessly – and still does – and that there was even a small amount left in the budget, delighted everyone all the more," says Ralf Ziegler, Head of Digital Business and project manager at PRAMAC Storage Systems, commenting on the cooperation with inovex. 
The cooperation with inovex took place mainly remotely and in distributed teams, but the inovexperts were always on call and available to be deployed on-site if necessary. 
inovex's flexibility in working quickly and easily directly in the container when needed helped us immensely. This enabled critical hardware errors to be quickly located and corrected. We are thrilled with how quickly the inovex team familiarised themselves with the new subject matter of inverters, smart meters and charging stations.
Ralf Ziegler
Head of Digital Business, PRAMAC Storage Systems
The EV Boost Box and energy management in action:
Time of Use
Application Scenario 1
The standard use case for the use of an EV Boost Box is that more charging power is required for electromobility than the grid connection available at a building or area can technically provide. In this case, the storage battery is charged via the grid at predefined times (at night for example), with predefined charging parameters. It can thus provide additional charging power for charging stations or the like during the day. Other functions, such as the purposeful discharging of the storage battery (balancing or load-levelling) or the "locking" of charging stations, can also be carried out at certain predefined times or when certain technical parameters (such as state of charge) are met. 
Charging Pillar Management
Application Scenario 2
Particularly in charging parks with many charging points, it is necessary to distribute the currently available charging power optimally among them. For this purpose, all connected charging stations can be controlled centrally via the EMS and supplied with charging power as needed. This includes prioritising individual charging points, as well as determining the minimum and maximum charging power per charging point. In addition, the total charging power can be limited in a blanket manner across all charging stations or depending on the state of charge (SoC) of the storage system. Use of the charging stations can also be limited to certain time periods or users. 
Peak Shaving
Application Scenario 3
If the EV Boost Box's battery is empty, it must still be possible to charge electric vehicles. In such cases, peak shaving the integrated EMS ensures that the maximum connected load is not exceeded and that charging power at the charging stations is dynamically reduced. If the EV Boost Box is networked with other electrical infrastructure in the immediate area, the peak shaving function can also be of tremendous benefit in other scenarios. It can be used, for example, to ensure that isolated load peaks do not exceed the maximum connected load at the grid transfer point or exceed the grid connection capacity agreed with the energy supplier. The former protects the local grid from overloading, while the latter prevents energy suppliers from charging potentially much higher tariffs for the extra short-term power consumption. In both cases, the peak shaving module ensures that load peaks are absorbed by providing additional energy from the EV Boost Box for a short time.
Captive Consumption Optimisation
(Zero Feed-In)
Application Scenario 4
In installations into which a photovoltaic system is integrated, there is an additional requirement to optimally use the energy generated. Since feeding electricity back into the public grid generates very little income these days, it is advantageous for generators to find ways to consume that excess energy. For this purpose, therefore, the Zero Feed-In function can store various scenarios describing how excess electricity should be used. Normally, priority would be given to charging the EV Boost Box's storage battery, or electric vehicles would be charged directly. Once these power requirements are met, the energy can be directed to other uses, such as powering air-conditioning systems or heating water. This is also where active power reduction comes into play. Legislation stipulates that the power of inverters (PV and battery) must be throttled under certain circumstances in order to protect the public grid from overload. Instead of throttling each inverter individually and without taking into account the overall system, the EMS's captive consumption optimisation feature ensures that throttling only takes place when the permissible feed-in power is exceeded and captive consumption is no longer possible. 
All components of the EV Boost Box, as well as those of the existing infrastructure, such as the PV tracker, the smart meter at the grid transfer point, and other devices and systems, are networked with each other via the EMS. The system states of the networked devices are regularly read and stored on the local EMS controller, together with each change in the dynamic data. This enables detailed (graphical) evaluations of individual components or of the overall system, as well as comprehensive monitoring of the status of all connected devices and systems, to be performed. When faults or errors occur, appropriate notes or warnings can thus be issued, and the system administrator can be informed.